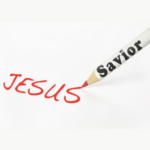 In Jesus Christ, God became a full participant in human suffering. Jesus experienced temptation firsthand. Our Savior witnessed the gamut of human suffering and compassionately did something to relieve it. Above all, Jesus experienced a cruel, unjust death. Jesus, the Son of God, suffered alongside us. Through Him, we have victory over evil.
---
Connect with The Gospel Saves
Subscribe to TGS podcast.
Instagram: @thegospelsavesme