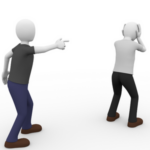 Satan, the Devil, our enemy, helps explain the evil present in the world. We look outside the created realm to find solutions to the problem of evil. The Bible reveals an actor working behind the scenes who intends to harm us. Satan appears in the stories of Adam and Eve, Job, Peter, and Jesus Christ. In each case, he opposes righteousness in three ways.
First of all, Satan is an accuser. In the case of Job, he accused God of favoritism. Satan believed God's protective hand enabled Job's righteousness. He suspected Job would curse God if he suffered alongside the rest of us. Thankfully, Satan's place as our accuser has been removed, and we can overcome him by the blood of Jesus by holding to the Lord, and being willing to die for our faith.
Satan is a tempter. This is the first role he plays when interacting with Adam and Eve. He asked permission to tempt Peter on the night of Jesus's betrayal. And in his famous encounter with Jesus, he lured the Lord three times in three different ways. Temptation can lead to sin if we let it. However, God assures us no temptation is unique, beyond our control, and inescapable.
Satan is also a deceiver. He uses lies and deceit to manipulate. He presents sin as satisfying and fulfilling. And he corrupts the doctrine of Jesus Christ to lead people away from the Lord. Therefore, God gives us His Spirit to overcome Satan, the devil, our enemy. The Spirit helps us discern right from wrong so we won't be misled.
---
Connect with The Gospel Saves
Subscribe to TGS podcast.
Instagram: @thegospelsavesme
---
Other Content